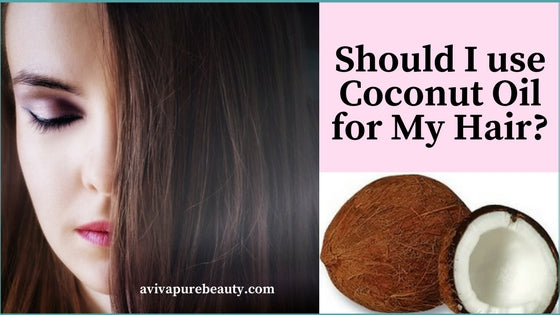 Coconut Oil has become very popular in the USA since the last 5 years. This is not surprising. Coconut oil is such a versatile oil with plenty usages and benefits.

In our store we have several coconut oil products for hair, face and body. Maybe you have asked yourself, if coconut oil is the right oil that you want to use for your hair?
Maybe you bought the wrong coconut oil and it was a complete disaster for your hair? Or maybe you are not really sure if you should use it at all.

There are many sources online to consult, and sometimes it seems almost confusing. So much information and so many opinions won't make it easier to decide.




For sure there are many benefits and more good than bad results or reviews. Nevertheless hair is different and it does not react always the same way.
Also it has to be used in the correct way. For example if you use too much it can have fatal results. In general coconut oil won't harm skin or hair and if used the wrong way, you just wash it off.
So before you are going to get the coconut oil from your favorite store that you wanted to buy since a while, find out yourself if this is the right beauty product for you.
Should I Use Coconut Oil for my Hair?
You should know that coconut oil is indeed the best source for fatty acids which are special types of fatty acids that have antibacterial and antimicrobial properties.  One of these fatty acids is lauric acid. This is wonderful for the body! That's why it is so great for oral care and is used in oil pulling with the result of teeth whitening, fresh breath and eliminating all bacteria from the mouth.
For a great people coconut oil does  a good job for the hair. This is proven and can be said without reservations. It has been reported to us that the oil had immediate results in the appearance of the hair, the softness and shininess. But not everyone was happy,  and we don't make a secret out of that. So it can be said that coconut oil has mixed results.


Different Hair Types Need Different Oils
Not all hair responds the same way.
If you hair lacks protein, coconut oil is great as it helps to retain the natural protein of the hair.
Fine - Medium Shiny Hair: You can expect good results cause it makes the hair stronger, creates more volume and shine.
Coarse - Dry Hair:  It may be that there is no lack of protein and this leads to more brittle hair and even hair loss. Such hair needs Argan oil.
If you are allergic to coconut of course we would never recommend to use coconut oil. It does not matter how good the quality is!
Always Use the Right Amount
Coconut oil works well in small amounts. There should be just a light coat on the hair which, in many cases, tames the frizz and adds shine to the hair without overwhelming it.
USAGE
Rub a small amount of coconut oil in your hands. If it is firm, allow some time so it is melting. If it is liquid (as our oil) there is no reason to wait. Work the oil through your hair gently. Leave it in for a short time first, if necessary raise the time or leave over night. Then shampoo hair thoroughly.
Our hair masks contain coconut oil. One is a combination with Argan oil, the other one is with avocado oil. - Check out the coconut Argan oil hair mask -
Coconut oil is great to be combine with other oils. When combined with other oils and ingredients the effect of coconut oil itself will be different.
If it is combined with Argan oil - like in our hair mask - or olive oil, it wont dry out the hair or make it brittle.
Another beneficial ingredient is honey as the sugar of honey will nourish hair and tame the frizz.
- See also our article Why Coconut and Avocado oil is a great combination for Hair -
Best Practices for Coconut Oil
Oil should not touch the scalp
If you suffer from dandruff coconut oil might be good to use but not directly on the scalp. Use the oil on a small scalp section first to see if you have any negative reactions such as irritated skin. We recommend to use it directly on the hair. 
Begin with small amounts
Be careful. See how your hair reacts on coconut oil. You always can increase the amount.  More is not always better. 
Combine with other ingredients
For example Coconut oil together with avocado oil is a deep conditioning treatment for the hair. You also can mix in some honey.
If you like check out our Make your Hair mask product. You choose from 20 different oils that are all beneficial for hair in different ways.