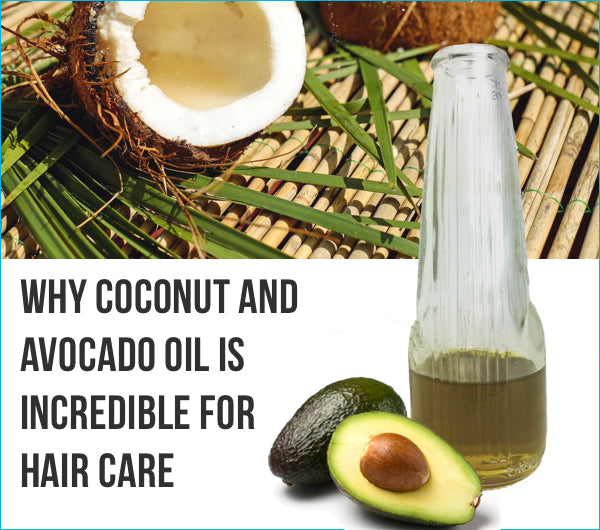 As a beauty product enthusiast, you probably have come across the popular question, "is there anything Coconut Oil and Avocado Oil can't do?" 

For the essence of this post, we will try to also avoid the argument, which is healthier: Coconut Oil or Avocado Oil?
The mixture of both is the key and it makes a great hair treatment for many reasons. Truth is, we all have that innate desire to groom us to look as perfect as those celebrities we see on TV and the people we watch in commercials.

But only a few were thoughtful enough to leverage the healing power of Coconut Oil and Avocado Oil. 
Find in this article some tips on why and how to use these wonderful beauty oils.

Must be 100 Percent Natural
Coconut Oil is a multi-purpose wonder product IF organically processed, so it can deliver great beauty benefits, especially to hair. But not all coconut oil is the same. For good effects avoid the cheap, processed oils that make you believe low pricing equals high quality. So the "price-determines-quality" culture is a dominant factor in our beauty care world. The same with Avocado Oil. It must be organically processed so its health benefits and versatility can show.


Ideal For Hair Masks
The sun can be as damaging to the hair just as it is to the human skin. Either of or a mixture of Coconut and Avocado Oil will give you the desire protection against exposure to the sun. They basically serve the purpose of organic hair mask. For best result, we advice you get your hair damp before applying the hair mask and afterwards, cover it up with your shower cap before applying some heat to it. Let the hair mask sit over night but at least 30 min. The best results can be achieved by leaving it on over night.




Makes the Best Hair Moisturizer
A blend of Coconut Oil + Avocado Oil hair treatment restores hair's natural radiance by finding its way deep into the hair shaft to moisturize, strengthen and provide enough protection from within each delicate strand. See what a big fan of the Avocado Oil has to say about it:
"Not only does my hair and scalp always feel awesome, but I even began to grow a significant amount of new hair, which I thought was gone forever."
This is an incredible result, isn't it? Natural hair growth is possible.

Always Choose Organic Hair Oil
Why is this important? Due to their high penetrative power, they don't allow any form of stiffness on the surface of hair, thereby resulting to a reliable remedy to dry or damaged hair. For this similar reason, they are widely used as hair oils. They are a perfect solution to tangling, frizzy or unruly hair.

Big Nutrient Value
Both organic hair oils are rich in necessary nutrients required for healthy hair grooming. The Avocado Oil contains good amount of monounsaturated fat, which is necessary for strengthening and nourishing the hair follicle. Unlike most organic oils, it has no scent. Besides being a very reliable therapy for damaged hair, it's equally good for healthy skin grooming.