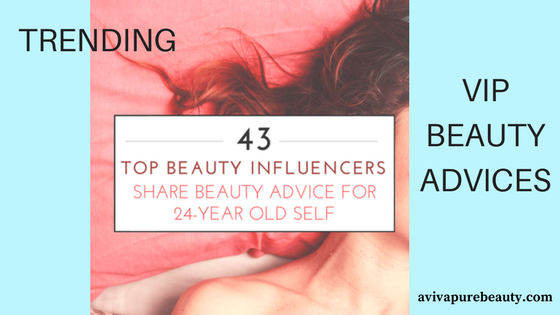 Can these short words of beauty wisdom make you think differently about how you take care of yourself? 
With beauty and aging a popular topic these days, we thought it would be a great idea to round up 43 of the most influential names in beauty.  
These aren't your average people when it comes to beauty -- these ladies are top experts in the field of beauty. Having tested thousands of products (both good and bad), they've spent years documenting their experiences for the rest of the world to see...
The question we asked:
"What Beauty Advice Would You Give To Your 24-Year Old Self?"
Some quotes touch on specific routines and products, others talk about beauty from a psychological point of view. You might want to keep these in mind as you begin each day.
43 Top Beauty Influencers Share their Beauty Advices
1. Cara Brook - Maskcara
A self-taught, Las Vegas based makeup artist known for the inspiring and dramatic makeovers she conducts on her blog, Maskcara. Cara is the 2013 winner of Allure's Beauty Blogger Award. She recently launched her own line of makeup, called IIID, and was featured in The New York Times on successful entrepreneurial beauty bloggers.


(RELATED: 11 Hair Growth Secrets That Nobody is Talking About)
2. Kelly Winters,  Primally Inspired
Kelly is the founder of Primally Inspired, a Real Food Recipes Blog featuring yummy real food recipes (Paleo/Primal/Gluten Free), home workouts & healthy, natural living. Visit Primally Inspired for Kelly's popular articles "Homemade Spray Deodorant Recipe" and "How to Make a Detox Smoothie."

 
(RELATED: Complete Guide on How to Look 10 Years Younger)
3. Kate Murphy - Living Pretty, Naturally
Kate is the founder of Living Pretty, Naturally - a natural beauty & wellness blog. Living Pretty, Naturally is your source for natural cosmetics & beauty product reviews, healthy hints, beauty-enhancing recipes, eco beauty lifestyle tricks, natural health information, yoga, wellness recommendations, holistic treatments and much more.


(RELATED: Organic Coconut Oil Cream - Face, Body and Hair Revitalizer)
4. Mandy Ferrugia - A Girl, Obsessed
Mandy is the founder of
A Girl, Obsessed
is a beauty blog created for the modern day girl with a passion for pretty things. New articles come out daily and include beauty reviews, makeup tutorials, blogging tips, product roundups, outfit ideas, personal photography, and things that inspire me that she hopes can inspire others as well.

5. Megan Cahn - Refinery29
Megan is a Senior Beauty Editor at Refinery29. Check out Megan's latest popular articles at Refinery29, "You Need to See How Much Brows Have Changed Over the Years" and "The Craziest Beauty Routines of the Rich & Famous."



6. Courtney - Phyrra
Courtney is the founder behind Phyrra, a Cruelty-free beauty, alternative fashion, and lifestyle blog. Courtney help's you to embrace your own unique look and to not feel pressured to look like the airbrushed women you see in magazines.


(RELATED: 10 Ways to Prepare Skin for Spring Weather)
7. Amanda Holstein - Advice From A Twenty Something
Amanda is the founder of Advice From A Twenty Something, the San Francisco-based advice column for the modern girl. Visit Advice from a Twenty Something to personally ask Amanda for advice on subjects ranging from fashion to beauty to relationships.


(RELATED: A Simple, Natural Beauty Routine for All Skin Types)
8. Paris B. - My Women Stuff
My Women Stuff
is a popular beauty blog in Malaysia founded by Malaysian top beauty blogger, Paris B. 
My Women Stuff started out as pioneers in the field of beauty blogging, and continues to be the premier independent beauty blog in Malaysia and globally, that appeals to a wide cross-section of the
beauty-loving
public.
9. Rachel Nguyen -That's Chic
Rachel Nguyen is the founder of
That's Chic
, a fashion and beauty blog documenting her SoCal based life. Rachel also hosts a popular youtube channel (ThatsChicBlog) that acts as a moving, visual diary of her life.

10. Erika Marie - Fashion Chalet
Fashion Chalet is a Fashion and Beauty Blog founded by Erika Marie, displaying her love with all things Fashion, Food, Beauty, Photography, and Modeling. Erika has been featured in Teen Vogue, Elle, Glamour.


11. Noelle Tarr - Coconuts and Kettlebells
Coconuts and Kettlebells was started by Noelle Tarr to empower people to pursue health and fitness from a place of self-love, and with an individualized approach. Noelle is a Nutritional Therapy Practitioner (NTP™), certified by the Nutritional Therapy Association, and a National Strength and Conditioning Association Certified Personal Trainer.

(RELATED: Coconut Oil Benefits: The Expert's Extraordinary Guide)
12. Lindsay Brown - Eco-Chick
Lindsay is the managing editor for 
Eco-Chick
, the world's first ethical beauty, fashion, home and travel site for women. Since Eco-Chick was founded in 2005, its mission has been to help modern, independent women make more informed decisions. Eco-Chick has been featured in Elle, Glamour, Self Magazine, USA Today, Marie Claire, Whole Living and the New York Times.
(RELATED: Top Anti-Aging Foods)
13. Rachel Anise - Beauty Professor
Rachel is the founder of Beauty Professor, an academic's honest opinion on all things beauty. Rachel has been featured as Beauty Collection's November 2014 Celebrity Beauty Curator, HauteTalk's: 10 Beauty Bloggers You Need to Know and throughout Neiman Marcus online.
 
(RELATED: Find Out the #1 Cause of Aging)
14. Annie Atkinson - She's in the Glow
Annie is the founder and Editor-in-Chief of She's In The Glow, an organic-inspired blog for the modern women. Annie has contributed to online mega-sites Chalkboard Magazine, Well+Good, Teen Vogue and Refinery 29.
 
15.Tanesha Awasthi
Tanesha Awasthi (Instagram:
@TaneshaAwasth
) is one of the world's top fashion, beauty and lifestyle influencers for plus size women. Founded in 2011, the Tanesha Awasthi brand (formerly known as Girl With Curves) includes an award-winning blog, social media and YouTube channels with over 1.3 million followers, providing outfit inspiration, beauty tutorials, styling tips and a glimpse into Tanesha's lifestyle as a wife, mom and multi-racial American who passionately supports the body positive and women empowerment movements.

16. Maya Allen - Cosmopolitan
Maya is Cosmpolitan.com's fashion and beauty assistant. Check Maya's latest popular articles at Cosmopolitan Onlne: "14 Amazing Eye Makeup Masterpieces You Really Won't Be Able to Stop Staring At" and "20 Adorable Photos of Moms and Their Daughters in Prom Dresses."
 

17. Chanel Parks - Sweet
Chanel is a writer based in New York City, and current editor of Sweet. Chanel has published on Rookie, The Huffington Post, BuzzFeed, Woman's Day and Seventeen. Check out ChanelParks.com for her latest popular articles, "How To Wear Blue Lipstick" and " Everything You Ever Needed To Know About Doing Your Eyebrows."


18. Amber Katz - Rouge18
Amber is the founder and writer of Rouge18, Pop culture-infused beauty blog featuring reviews, tips, and giveaways.  Amber also contributes to TeenVogue.com, MTV's Buzzworthy Blog, Elle.com, Daily Glow and Refinery29, and has written for Vogue, Cosmopolitan, Nylon, Instyle.com.

 

19. Jenny Wu - Good, Bad, and Fab
The Good, Bad, and Fab is top LA personal style beauty blog by Asian American LA fashion lawyer Jenny Wu. Jenny has been featured in Teen Vogue, Lucky Magazine, Refinery29 and starred on Amazing Race Season 26. The blog was named by Lucky Magazine as "one of the LA style blogs to bookmark right now" and by BeautyHigh as one of the "50 best beauty blogs."


(RELATED: Key Preventatives for Aging)
20. Tine - Beautyholics Anonymous
Tine is the founder of Melbourne-based beauty blog
Beautyholics Anonymous
. A makeup and skincare enthusiast, Tine has an unhealthy adoration for bags and cakes. Beautyholics Anonymous has been mentioned in Vogue, Elle, Women's Healthy & Fitness and Maybelline. 

21. Miranda Mendoza - Slashed Beauty
Miranda is the founder of Slashed Beauty, a budget beauty blog that helps you stay up with the latest trends, tips, tutorials and reviews highlighting affordable products. She was named Allure Magazine's 2014 Most Buzzworthy Blogger.

 

22. Erica Stolman - Fashionlush
Erica is the founder of Fashionlush, a Fashion & DIY blog featuring current fashion trends, easy DIY projects, & blogging tips, & much more! Erica has been featured in Buzzfeed, Marie Claire, Nasty Gal, and Forever 21.

 

23. Fran Kerr - High on Clear Skin
Fran is the founder of High on Clear Skin, home of natural acne treatment for adult women. A portion of High on Clear Skin profits are donated to not-for-profit organizations to support the Andean communities of Peru.

 
24. Sheila Arkee - Painted Ladies
Painted Ladies
is a beauty blog founded by Sheila that features makeup reviews, makeup tutorials, and beauty inspiration posts for women of all ages. Sheila is a beauty writer, makeup artist, and photographer with a lifetime of love for the beauty industry.

25. Lara Eurdolian - Pretty Connected
Pretty Connected is a NYC based style, beauty, lifestyle and travel blog founded by Lara Eurdolian. Lara has appeared on the Rachel Ray Show, The Today Show, House of DVF, The Pulse Network, and Logo TV.

 
(RELATED: How to Remove Stubbon, Waterproof Mascara)
26. Lara Ramos - The Glossarie
Lara is the voice behind the popular beauty blogs,
The Glossarie
, which features recommendations on the latest beauty must-haves, all in the name of making your makeup bag a prettier place and feeling beautiful easier than ever. The Glossarie has been mentioned in Allure, Lucky, People StyeWatch and Seventeen.
(RELATED: Avocado Coconut Rosemary Oil - Organic Hair Mask)
27. Eustacia Huen - Forbes
Eustacia is a contributor to Forbes as well as ELLE, The Knot, The Wall Street Journal Asia, and Valentino. Check Eustacia out in Forbes for her latest popular articles, "How Will We Live In 2116?" and "6 Dining Trends That Will Change The Way You Eat in 2016."

 
RELATED: How to Identity Where Your Skin is Currently at in Aging Process)
28. Erin Zwahlen - Make Her Up
Make Her Up
was founded in 2007 by childhood best friends, Erin Zwahlen & Jocelyn Kujala. Erin And Jocelyn provide daily updates and keep their readers up-to-date on the latest beauty must-have's. Make Her Up has received many accolades including being picked by Babble 100 as one of the Top 10 beauty sites of 2013!
29. Cindy - Made2Style
Cindy is the founder of
Made2Style
, a blog featuring DIY, beauty, home design, furniture makeovers, recipes, and seasonal décor. Cindy  is a teacher, makeup artist, lover of home design, and a major DIYer! 
30. Cori - Well Beauty Blog
Well Beauty Blog
was founded by Cori and is devoted to natural and organic beauty, health and eco-friendly living for healthy beauty - inside and out. Visit Cori at her youtube channel (wellbeautyblog) for additional makeup and beauty tips.

31. Tara Mackey - The Organic Life
Tara is the Founder and CEO of her sustainable company The Organic Life, where she inspires people to make bold and brave moves, take actions to live their dreams and create lives they only once imagined. Tara Mackey is also Author of the #1 Bestselling Cured by Nature, a soul singer, and global motivational speaker.

 

32. Mary Helen Leonard - Mary Makes Good
Mary is the founder of Mary Makes Good, a creative lifestyle blog with a focus on natural and DIY solutions for your kitchen, beauty routine, and family. Mary is also a contributor to Prevention Magazine and the author of The Natural Beauty Solution.

 

33. Teresa Caruso - Money Can Buy Lipstick
Teresa is the founder of Money Can Buy Lipstick, a blog that features make-up reviews, beauty news, and style advice. Teresa has been featured in Makeup.com's 25 Top Beauty Bloggers Share 2015 Make-up Trends.

 

34. Donna Kim - DonnaDaily           
DonnaDaily is an inspiration and style blog founded by lifestyle journalist, Donna Kim. Donna is a TV Lifestyle Expert & Host and has appeared on the Today Show, Huff Post Live, Vogue.TV, QVC and many other popular media outlets.

 
(RELATED: Rosehip Seed Oil - Nightly Facial Repair)
35. Kara Manos - Politics of Pretty
Politics of Pretty
is a DC beauty blog by Kara Manos that covers makeup, hair, nails, skin and spa. Kara has been featured in People StyleWatch, Byrdie Beauty and Fashion Washington. 

36. Olia Majd - Love Olia
Love, Olia is a San Diego-based Style and Beauty Blog written by a former Esthetician turned Style & Fashion Blogger, Olia Majd. As an Esthetician, Olia has worked with countless women, learning their wants and needs and now shares those tips with the rest of the world.

 

37. Ivy Boyd - Wake Up For Makeup
Wake Up For Makeup is Des Moines, IA-based makeup and beauty blog by makeup artist Ivy Boyd. Ivy was a finalist in the 2014 Allure Beauty Blogger Awards, and top 5 nominee in the 2015 Blo Beauty Blo-gger of the Year Awards.

 

38. Manika Boora - Natural Beauty Corner
Founded by Manika Boora, Natural Beauty Corner addresses the needs of people who want to transition to a cleaner beauty and wellness routine. Manika is also a Digital Strategist, Designer, and Holistic Marketer.

 

39. Jamie Stone - Honestly Jamie
Jamie is the founder of Honestly Jamie, which features daily doses of beauty, lifestyle, fashion and pop culture, with a little sarcasm mixed in. Jamie has been featured in Lucky Magazine, People and the New York Times.

 

40. Molly Hill - Maison Pur
Founded by Molly Hil, Maison Pur, is a non-toxic lifestyle blog about green beauty products, natural baby and children's products, and non-toxic home products. Check out Maison Pur for Molly's latest articles "Fresh Makeup Picks For Spring" and "Lunchtime With This Organic Girl."

 

41. Stephanie Flor - Around the World Beauty
Stephanie is the founder of Around the World Beauty, a beauty blog about rituals and traditions still practiced in different cultures by women all over the world. Stephanie is also a makeup artist with past clients including music artist Mariah Carey, rapper Eve, Sting, comedian Kathy Griffin, politician Mexican President Felipe Calderon, and the Israel President Shimon Peres.

 

42. Lola Seicento - Lola's Secret Beauty Blog
Lola is the founder of Lola's Secret Beauty Blog, a blog with a worthy obsession with quality skincare & makeup. Lola's Secret Beauty Blog has been recognized as a My Daily/Huffington Post 10 Beauty Bloggers You Need to Follow.

 

43. Sesame - Viva Woman
Sesame is the founder of Viva Woman, a Singapore green beauty blog on natural, organic skincare and cosmetics. Features beauty tips, DIY beauty recipes, product reviews, clean food recipes and much more. Sesame has been ranked a Top 20 Beauty Bloggers You Must Follow by YouQueen 2016 and a Top 5 beauty blogs according to Blog Rank 2015.


P.S. – Please Help Spread These Awesome Beauty Snippets to Others By:
1) Sharing on Facebook and Pinterest. And... 

2) If any of these 43 beauty quotes inspire you to make a change, or if you have any advice you would like to share with your 24-year self, leave us a comment below: