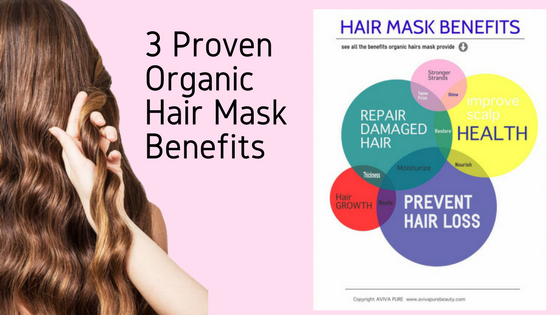 Have you ever wondered what the hype is behind the latest organic hair mask trend? If you have not found out so far, this article will guide you to find the best hair mask advice.


Organic hair masks, or deep conditioning treatments, are a simple, natural way to boost your hair's health and shine in a matter of minutes. 
There are numerous hair mask benefits, but we will start by showing you the three main reasons to start using organic hair masks.
3 Proven Organic Hair Mask Benefits
1. Repairs, Dry Damaged Hair
Blow dryers, coloring, products, sun. The fact is we abuse our locks on a daily basis. It's critical that we put moisture back into our hair. Unlike your typical conditioner that stays on the surface of the strand, hair masks benefit the hair by penetrating deep into your hair cuticles to help heal them more completely and lock in moisture.
Applying hair masks on a weekly basis improves the quality and strength of your hair and leaves a long lasting conditioning effect. 


2. Improves Scalp Health
Before you can expect fabulous hair, it's important to realize that healthy hair stems from a healthy scalp.
An unhealthy scalp can lead to skin conditions such as psoriasis and dandruff that result in hair loss and make it difficult for hair to grow. Hair masks that use organic oils with strong anti-fungal and anti-bacterial properties prevent and correct scalp issues while simultaneously strengthening each strand of your hair.
Look for hair masks with organic oils such as coconut oil and avocado oil, each with a high fatty acid contents known for their anti-fungal properties. The benefits organic hair masks provide for the scalp help set the foundation for healthy locks of hair.
3. Prevents Hair Loss
Of all the things standing in the way of perfect hair, hair loss would be enemy number one. According to beauty experts, the average person loses 100 strands of hair per day. Anything beyond this is considered severe hair loss.
Organic hair masks help to restore natural oils in the hair and scalp, helping to prevent hair loss. Oils rich in fatty acids and Vitamin A & E help to foster ideal hair and scalp conditioning, thereby bring hair loss to a minimum. Mediterranean countries have used Rosemary oil for centuries to slow down premature hair loss.
As little as 30 minutes a week is all it takes to receive maximum hair mask benefits. This is a great time to relax and enjoy yourself while leaving yourself with strong, beautiful hair.
Learn More About the Avocado, Coconut, Rosemary Oil - Organic Hair Mask.