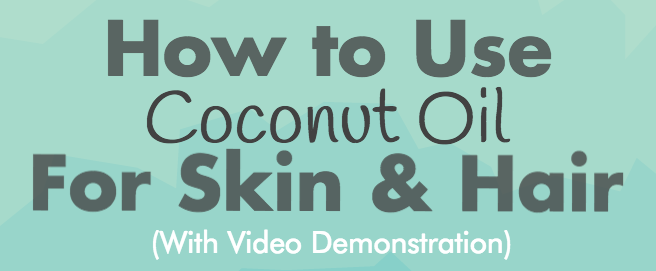 Are you thinking about trying Coconut Oil in your beauty routine but not sure how to use it? Here is a list of our top five ways to use coconut oil on your skin and hair:
Top 5 Coconut Oil Uses for Skin & Hair 
1. Makeup Remover - Removing waterproof mascara and eyeliner can be one of the more irritating things about your nightly routine, and even worse, many products do not do the job very well. Enter Coconut Oil. Even the most stubborn, waterproof mascara does not stand a chance against coconut oil. We filmed a quick video below showing you how to easily remove your makeup with coconut oil:
2. Face & Body Moisturizer - To keep your skin soft and smooth, swap your regular moisturizer for coconut oil. If you rub a small amount of coconut oil between your hands, you will instantly notice how incredible moisturizing and hydrating it feels on your skin. Coconut Oil's high content of antioxidants and fatty acids help to prevent free radical formation, the primary cause of aging. And because of its molecular structure - it absorbs quickly and lightly, to help quench thirsty skin.
Directions: Use on face as nightly moisturizer. Or apply on body to other rough spots: elbows, knees, heels, lips, cuticles to soften and heal.
3. Hair Conditioner & Frizz Control - Just as coconut oil works wonder for your skin, it will also leave your hair shiny, healthy, and hydrated. In a study published by the Journal of Cosmetic Science, Coconut oil was the only oil found to reduce the protein loss remarkably for both undamaged and damaged hair when used as a pre-wash and post-wash grooming product. Coconut Oil's high content of fatty acids keep the hair strong, nourished and protected from the effects of sun damage, bleaching and over-drying of the hair and scalp. The antifungal properties also help eliminate the need for dandruff shampoos.
Directions: Rub a small amount between hands and apply it to your hair from roots to the tips of your hair. You can leave it in for 30 minutes or even sleep with it in overnight. Rinse it out in the shower and shampoo and condition as usual.
Coconut Oil Hair Mask Tutorial 
4. Skin Conditions: Eczema/Psoriasis/Acne/Sun Burn/Diaper Rash- The three main fatty acids found in Coconut Oil; lauric acid, caprylic acid and capric acid, are known for their anti-inflammatory, anti-fungal and anti-bacterial properties. These help to provide an immediate effect on keeping skin moisturized and lessening redness and burning. Unlike many prescription medications, coconut oil does not contain any chemicals or preservatives and allows the skin to heal naturally. Learn more about ways to use Coconut Oil on babies and newborns.
5. Shaving Cream - Get a close shave and hydrate your skin at the same time. Coconut Oil works great as a shaving cream for those who have sensitive skin, or are sensive to the long list of toxic chemicals typically found in normal shaving creams.
Directions: Run skin under warm water to soften the skin and hair. Apply oil to coat skin and shave as usual.
Do you have any uses for Coconut Oil that you would like to share? Comment below and let us know. You can also check out our Organic Coconut Oil Cream - Face, Body & Hair Revitalizer.