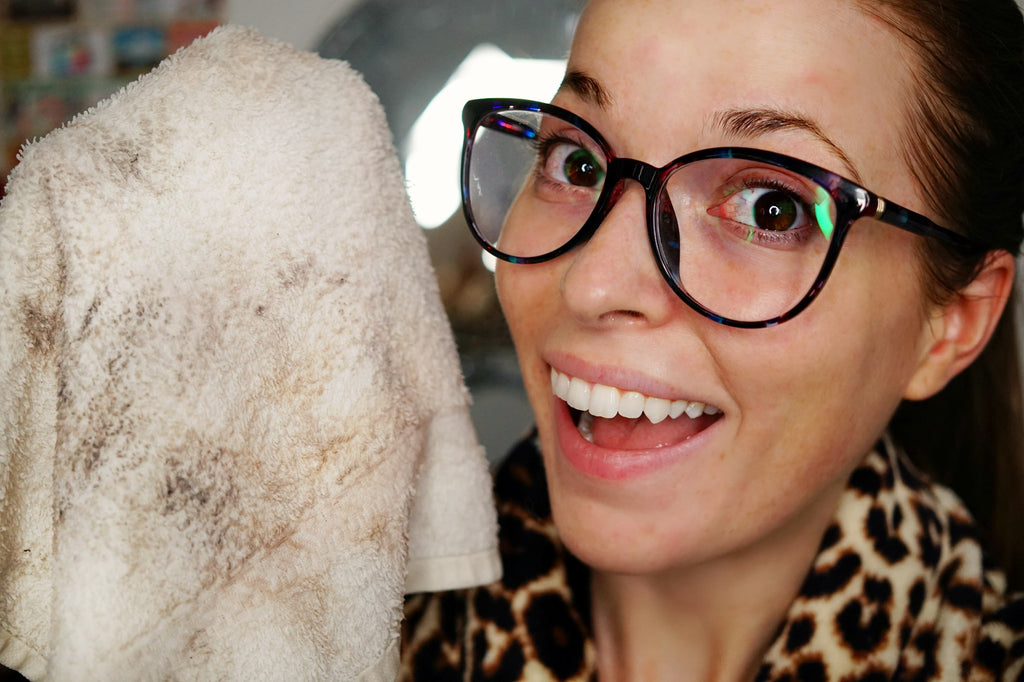 Video Highlights
00:01 - Do you struggle with removing stubborn waterproof mascara or eyeliner?
00:07 - Typical cleansers and that "tight feeling" you get after using
00:27 - Top two reasons to use Organic Coconut Oil over water and other cleansers
00:46 - The only two items you will need
00:57 - How much Organic Coconut Oil to Use
01:07 - Why you should rub between fingers before applying to your face
01:16 - How to remove even the trickiest eye liners from your lashes
01:36 - Removing eyebrow makeup and foundation
01:42 - Secret to using "steam" to lift up remaing oils and debris
02:11 - Whether to use additional moisturizer or not
02:17 - How many times per day to use coconut oil as a cleanser
Transcript 
Do you struggle with removing stubborn waterproof mascara or eyeliner? Do regular cleansers leave your skin with that tight feeling? If your answer is yes, you're going to love using coconut oil!
I'm Veronica with
Aviva Pure
, where you find Beauty the simple, natural way. Ingredients you recognize, Advice you trust.
Today I'm going to demonstrate how to easily remove your eye makeup using the 
Aviva Pure Organic Coconut Oil
.
I prefer removing my makeup using coconut oil over water and other cleansers for several reasons! The first reason is that you don't end up with that tight feeling that you can get from harsh cleansers drying out your skin.
Second, you don't have to worry about your eyes burning in any way while taking off your eye makeup! Best of all, it's so simple and mess free. All you will need is coconut oil and a wash cloth. You won't have to worry about water splashing all over the place.
Step-by-Step Instructions (with photos)
I'm going to take about a quarter sizes amount of Coconut Oil out of the jar (see photo below). This should be enough for your entire face. As you rub it in your hands, your going to notice how it will melt and liquify (this is perfectly normal; just like ice turning into water).
Once it is melted, place your hands on your face and gently massage into your face. Really try to gently work it in between your lashes to get out every last bit of mascara and eye liner.
Once I feel like I've gotten most of the product out of my eyes I'm going to distribute the oil all over the rest of the my face, working it into my eyebrows where I also have makeup on. From there, continuing rubbing over the rest of your face where you have foundation on. 
Once you have completely worked it into your skin, your going to take a hot wash cloth and simply place it over your face. 
You can read more about Aviva Pure Organic Coconut Oil here
Leave the wash cloth on your face for up to one minute to let the steam lift up all the makeup and oils from your face. Repeat the process 2-3 times to ensure all of the remaining oils and debris have been lifted off from your face.
Now, just remove the remaining makeup by gently going over your face with the warm wash cloth. And there you have it: Now your face is CLEAN and your entire makeup is on the wash cloth.
Depending on your skin type, you may not need to put an additional moisturizer or serum on your face.
But If you end up feeling dry after the coconut oil face cleansing, or want to moisturize your face, you can use a facial toner followed by a facial serum.
Because the coconut oil cleansing method is a deep cleansing method, it's best to wash your face with coconut oil no more than once a day, preferably at night before bed.
Are you ready to make the switch to using Coconut Oil as an Eye Makeup Remover? Learn more about the Aviva Pure Organic Coconut Oil